"From KeNIA's perspective of developing and nurturing the national innovation system, and with our understanding of the realities of investors and startups, we fully support the government-led Startup Fund and will keenly support the design and execution of the same."

Dr. Tonny Omwansa - CEO, KeNIA
---
We are in a global village that is continuously driven by the digital revolution. Economic fortunes have progressed from the agrarian revolution to the industrial transformation and now we are thriving in the digital age.
To many, technology is king, but more importantly, technology is a transformative enabler. Technology has transformed the way we live, communicate, learn, play and do business. It would not be an overstatement to say that developing countries whose economies depend on commodities must continuously enhance their technological capacities to escape the trap that leaves most of their populations poor and vulnerable.
In the world of business, technology enables us to reduce the costs of production, increase speed of delivery, encourage emergence of new models, cultivate faster communication among other benefits.
Speaking of growth of new businesses, startups have emerged as a special form of enterprises within the economy. It is important to differentiate startups from Micro Small and Medium Enterprises (MSMEs). The "Startup economy" is a concept that focuses on the creation of high growth ventures. These ventures are distinct from MSMEs in that they launch and operate in the formal sector, depend on technological innovations to create and sustain a competitive edge in the marketplace, and they depend on venture capital (VC) to drive rapid growth.
The value that startups create in the national and subnational economy is transformative in that they attract local and foreign investments, rapidly create job for highly skilled and unskilled workers, build local value chains and potentially export goods and services. It is also common for startups to receives funds from investors.
Kenya National Innovation Agency (KeNIA) was set up as a Semi-Autonomous Government Agency to develop and manage the National Innovation System. One of the strategic priorities of KeNIA is to grow the startup economy, with a goal of transforming Kenya into a modern, upwardly mobile economy.
There is huge benefit when a country gets it right with the startup economy. To put things into perspectives, the world economic forum estimates that the value that startups create globally is "nearly on par with the GDP of a G7 economy and the amount of startup funding in 2021 surpassed $600 billion. The number of unicorns is well past the 1,000 mark and growing exponentially". Within the African continent, as of 1st May 2022, the total Venture Capital (VC) investment was USD 2 Billion, and is projected to hit $7 B by close of the year, making Africa the fastest growing startup economy in the world!
However, this upward trend cannot be maintained without deliberate policy and political good will.
For example, funding of Kenyan startups by international investors fell from position one (1) in 2020 in Africa to fourth last year, following a decline of Sh15 Billion from $549 Million in 2020, to $411 million last year representing a 25.1% drop.
At KeNIA, we believe Kenya's startup economy has what it takes to not only regain the number 1 spot as a destination for VC investment, but to also transform Kenya by creating solutions to societal challenges, significantly contributing to the country's tax base, improving the country's competitiveness, and lifting the masses out of poverty.
To achieve this and to remain competitive, the startup economy does need the government's right hand of partnership and an enabling legal and policy framework. The Kenya Startup Bill 2020 that was passed in the Senate and now awaiting further legislation in Parliament is one such intervention.
Embracing the Startup Bill will be a key enabler for the Kenya Kwanza Government's economic agenda, with the potential of attracting over USD 4 Billion in venture capital/foreign direct investment (FDI) to the economy in the coming few years, creating upwards of 5 million direct and indirect jobs within the first term of the government and setting Kenya on the path of being a net exporter of solutions in diverse sectors such as finance, agriculture, health and clean technology.
President William Ruto announced during the Kenya Innovation Week (KIW) at the Sarit Centre and during the Jamhuri Day celebration that besides the Hustler Fund, the government will also set up a Startup Fund in the course of 2023. The President revealed that the fund will help to de-risk startups.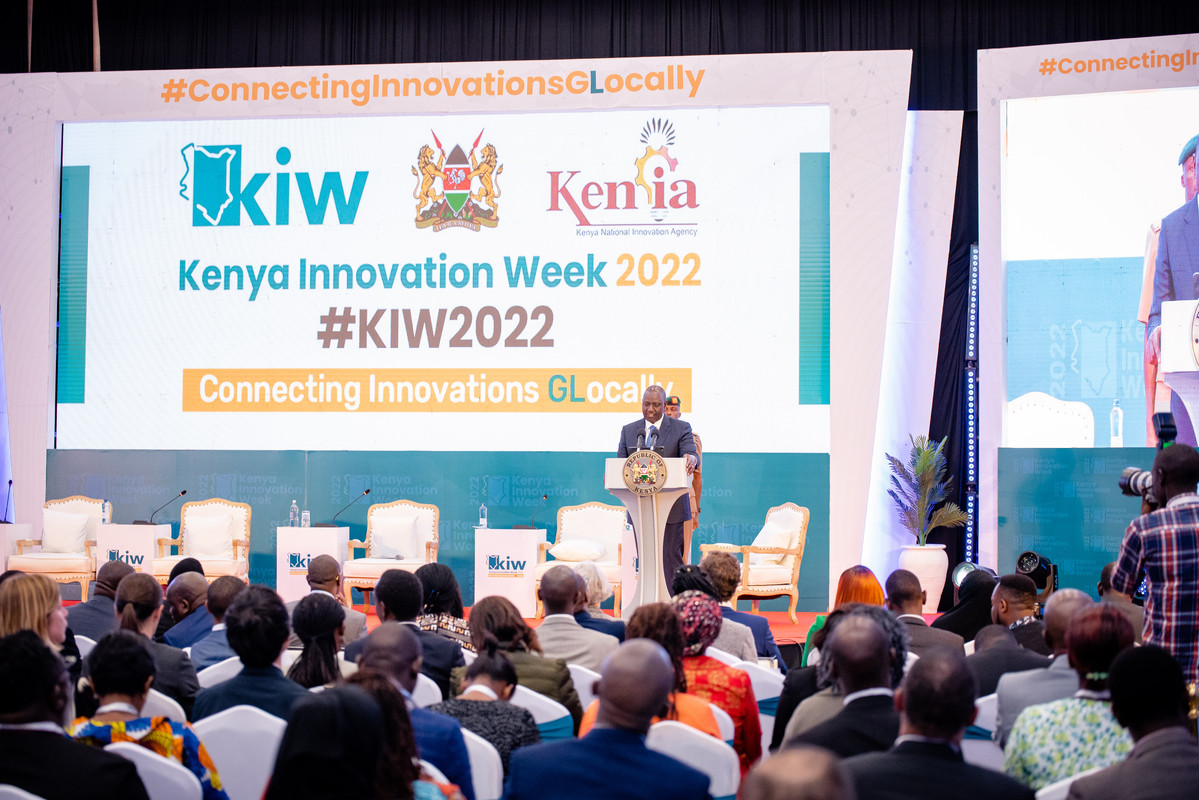 H.E Dr. William Ruto, C.G.H. addressing delegates at the Kenya Innovation Week 2022 expo and conference
Let me point out further why it is a matter of absolute necessity to de-risk startups. Though venture capital has been championed as a popular financing mechanism for innovative technology companies for decades, it is not the perfect fit for many types of entrepreneurial enterprises.
Venture capitalists embrace a high-risk, high-reward investment model of backing companies at the earliest stages of their lifecycles because of the companies' potential to grow and scale quickly in gargantuan markets.
Consequently, they often seek asset-light, capital-efficient companies that focus on growth over profitability. And those cluster in metros with emerging or robust technology ecosystems.
Startups that may achieve steady or uneven—but not rocket ship—growth are often not great fits to receive venture financing. Such companies may have long sales cycles, or require significant capital expenditures or regulatory approvals prior to scale. Due to this, they are not very attractive to venture capitalists.
Conversely, they still offer the very same advantages to the economy that any other businesses might offer – job creation, contribution to GDP etc – for this, they might need other sources of financing and that it is why it is crucial to de-risk them.
De-risking should be normally a government initiative that will ensure startups become attractive to conservative commercial lenders. This arrangement is very vital for the startup ecosystem. De-risking startups also opens doors for local and international venture capitalists who would have their confidence affirmed.
A good example is the Israeli government initiative of de-risking startups. Israel is currently ranked first among the OECD countries in terms of country investment in research and development (R&D). The Israeli Innovation Authority (IIA) manages the process by providing startup companies with grants for R&D of technological products and services.
With over 6,000 active startups and an economy dominated by industrial high-tech and entrepreneurship, Israel certainly earned its nickname 'The Startup Nation'.
In 2016 alone, Israeli startups raised a record $4.8 billion from investors, while high-tech and startup companies were sold for $10.02 billion through acquisitions or IPO's. Israel is also home to the highest number of engineers per capita and has the world's 2nd highest R&D expenditure as percent of GDP (4.3%).
All this has been made possible by robust support for startups from the Israeli government.
The Israeli government founded the Technology Incubator program in the early 1990s. Today there are over 25 incubators across the country, all of which have been privatized.
The incubators offer government funding, with oversight from the Israel Innovation Authority, of up to 85% of early-stage project costs for two years. They nurture companies from seed to early stage, thus minimizing the risk to the investor. More than 1100 projects have so far graduated from the incubators, with over 45% successfully attracting additional investments from different investors.
From KeNIA's perspective of developing and nurturing the national innovation system, and with our understanding of the realities of investors and startups, we fully support the government-led Startup Fund and will keenly support the design and execution of the same.
The Startup Fund will complement most of the work KeNIA has done over the last few years, working with a range of partners to promote and reward innovation as well as catalyze the development of enterprises out of research and ideas. Several startups that KeNIA has supported do need de-risking in order to create a better pathway to attract VC funding and hence scale.
KeNIA has also been deeply involved in supporting the scouting, identification, recording and protection of innovative ideas. In addition, the agency is involved in coordinating the establishment and implementation of appropriate policies, standards, processes, infrastructure, and partnerships to nurture the innovative ideas. Working with a range of partners, the agency is also involved in supporting the appropriate prioritization, capacity development, recognition and publication of innovative efforts.
The agency also, hosts the Kenya Innovation Week (KIW) as a flagship innovation forum for the country. KIW seeks to showcase the innovativeness of Kenyans under which the national priorities of the Vision 2030 will be advanced.
KeNIA launched a national coordination framework for innovation hubs during the KIW2022 and will operationalize it in 2023. This framework provides an ideal mechanism to operationalize the Startup Fund and see more startups de-risked and scaled for the greater good of Kenyan society.
Dr. Tonny Omwansa is the CEO Kenya National Innovation Agency.