We are excited to launch the application call for the Trainers of Trainers (ToT) for the first cohort of the Research to Commercialization (R2C) Programme. Viktoria Ventures, in collaboration with the Kenya National Innovations Agency (KENIA) is implementing an R2C accelerator program to strengthen the commercialization process in research centers and universities. The program is funded by the UK Foreign, Commonwealth & Development Office (FCDO) through the Research and Innovation Systems for Africa (RISA) programme.
This program aims to support researchers and institutions in Kenya to commercialize their research and bring innovative products to the market. The program will provide training, coaching, and introductions to strategic partners and investors to help researchers secure funding and partnerships. Additionally, key representatives from institutions will go through upskilling sessions to learn how to run successful R2C programs within their universities. The program targets to support 30 Trainers of Trainers (ToT) and 40 researchers in two cohorts running from December 2022 to June 2023, and July 2023 to December 2023.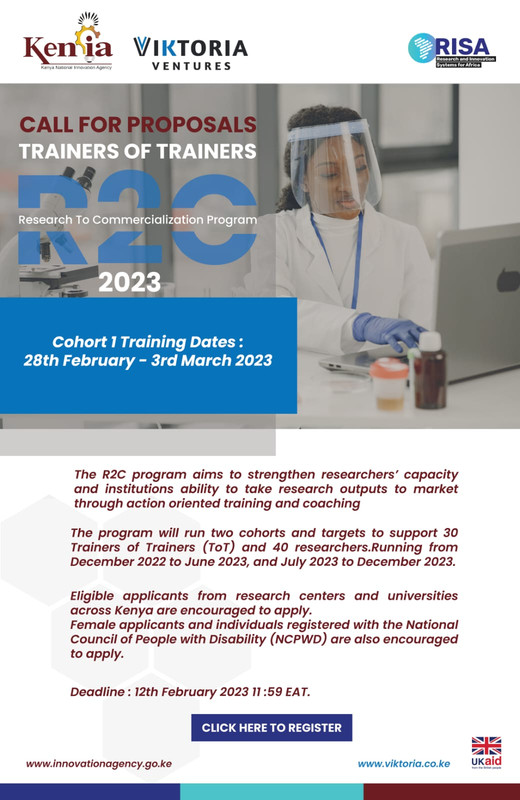 Eligibility requirements
Qualified applicants should meet the following eligibility criteria:
Must demonstrate the commitment of the institutions' senior management to support commercialization, evidenced by existence of Technology Transfer Office, IP policies adopted, presence of some research outputs ready to be commercialized.
Applicant must demonstrate a willingness to lead cultural transformation required for commercialization to thrive.
Applicant must be an experienced trainer and/or facilitator of change and learning.
Applicants must be willing to spend at least 15% of their time streamlining the research to the commercialization pipeline in their university.
Applicant must be willing to periodically report progress to KeNIA and ViKtoria Ventures.
Eligible applicants from research centers and universities across Kenya are encouraged to apply.
Female applicants and individuals registered with the National Council of People with Disability (NCPWD) are also encouraged to apply.