What is innovation? Why is it important? What makes one sustainable or feasible over another? The Kenya National Innovation Agency (KeNIA), whose mandate is to develop, manage, coordinate, promote and regulate Kenya's National Innovation System, ran a pulse check on Isiolo's ecosystem through an intensive course program spanning four days.
Working with the World Food Programme (WFP), the Agency, through its Innovation Academy, purposed to unpack the interrelationships between Isiolo actors and identify existing innovations and structures that curtail efforts or boost the innovation ecosystem. This way, KeNIA and WFP would help improve the innovation knowledge management for the Isiolo County Government to effectively apply and enhance service delivery in support of vulnerable communities.
Great ideas are in place, but unfortunately, they are formulated at high-ranking levels courtesy of the urgency to meet national or institutional targets and expectations. However, what works best for Isiolo County? For whom? Why? And how? What about that which doesn't work? Is it too late to propose alternative pathways?
These and more complex questions guided interactions with participants from different government departments and the pastoral community on identifying interventions that promote contextually relevant practices that will improve livelihoods, diversify income, improve food security, boost nutrition, improve access to water, reduce repercussions from drought, and increase youth involvement in agricultural practices.
Different settings, coupled with brainstorming sessions, stakeholder mapping exercises, and practical sessions, taking on the human-centred design (HCD) thinking approach, provided opportunities to gain different perspectives on successes, barriers, gaps, and opportunities, from the old and the young that will fuel innovation in Isiolo County. "Taking a Human Centred Design thinking approach helps us remember that everyone has the potential to solve a problem," noted Faith Kathoka, HCD Expert, WFP.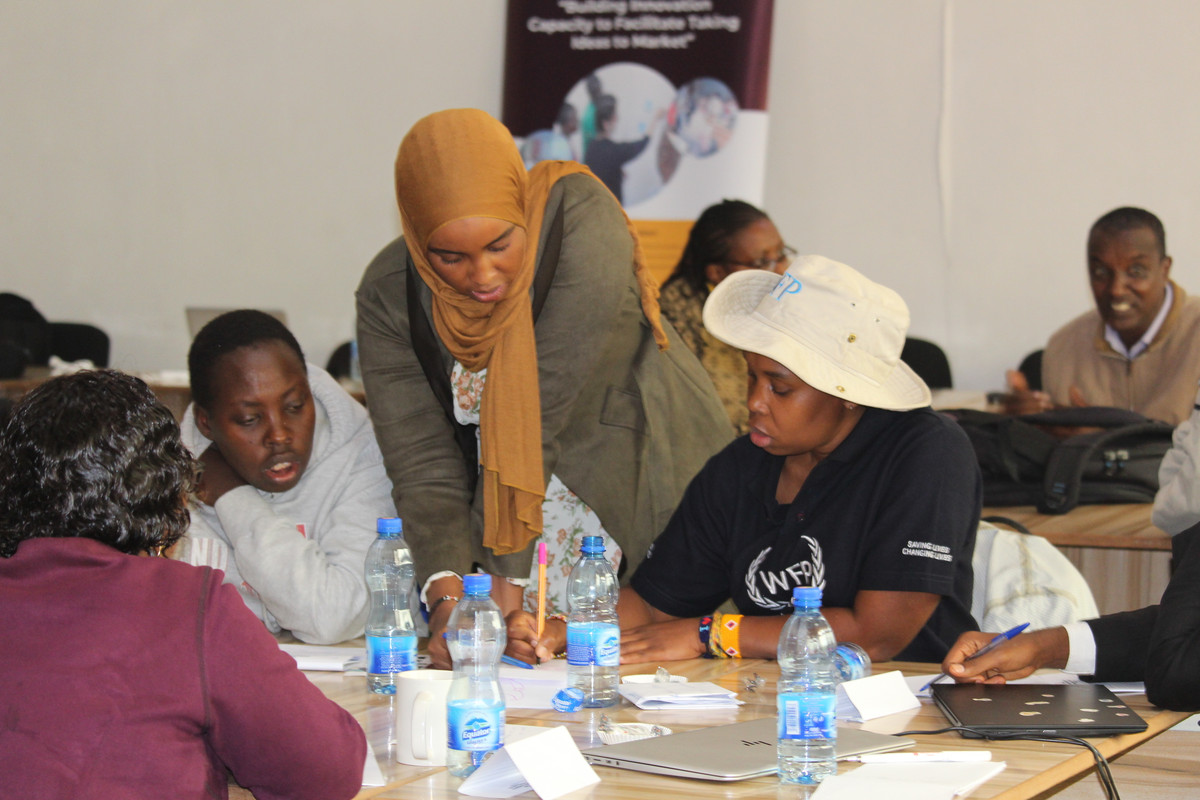 Participants engage in discussions on the challenges and opportunities that would hamper or encourage innovations in Isiolo County. Photo @KeNIA
So, what counts as an innovation? KeNIA defines innovation as the implementation of a new or significantly improved product (good or service), process, a new marketing or organisational method in business practices, workplace organisation or external relations. Innovation is a strategy that increases service delivery, effectiveness, efficiency, and overall impact on the intended beneficiaries.
"We should not only view innovation as the grand ideas we've seen commercialised," said Dr Joyce Ngure, Assistant Director, KeNIA. "A safety pin was an innovation, and so was a nail which unites pieces of wood to make furniture. So, we can innovate wherever we are."
Cognisant of the fact that no one size fits all, an 'options by context' approach was applied to help identify behaviour patterns, supporting structures and mental models that underlie the challenges that participants wanted to or had been striving to solve within their regions.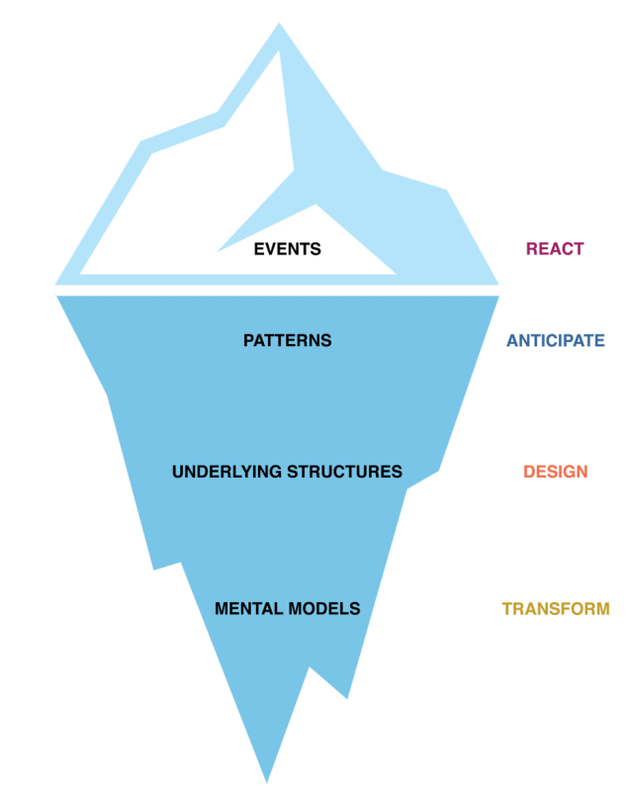 Thanks to the Iceberg Model, participants got to learn the mindsets, the approach and the process of design thinking as a methodology for innovation which takes participants on a fact-finding mission of empathy, problem definition, idea generation, prototyping, testing, and piloting, to ensure they suit the targeted contexts.
Participants were put on the spot to challenge the status quo and aim to deliver new disruptive policies, products, services, and processes with the beneficiaries in mind while mirroring the social and ecological contexts within which they targeted to apply the same. "Innovation calls for us to be ready and willing to embrace change, and we must endeavour to do things differently," shared Winnie Opiko, Senior Innovations Manager, WFP.
From the sessions, it was palpable that for one to be a design thinker, one should bear in mind that the problems one aims to solve are rarely their own. One must, therefore, try to understand how intended beneficiaries behave, their attitudes and mindsets, their physical and emotional needs, and what they find most meaningful.
Some of the outcomes were that value chains should be integrated and strengthened if the efforts to expand the scale of innovation were to bear fruit. Additionally, short-term interventions by diversifying household income generation would help address the heavy reliance on pastoralism and bridge the void created when drought strikes.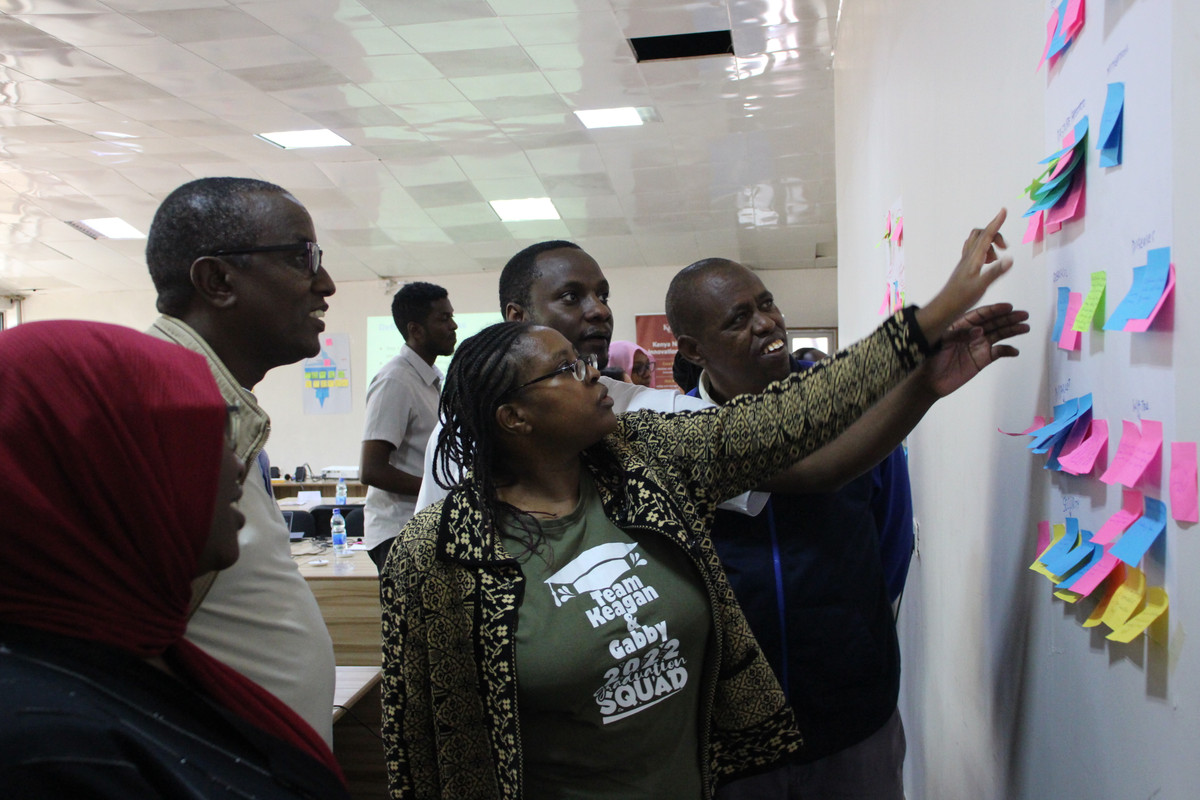 Participants pin up ideas generated during group discussions on the discussion wall. Photo @KeNIA
There was also a need to strengthen co-learning between partners and other stakeholders, taking up indigenous knowledge by pastoralists or herders, which will help expand the scale of KeNIA and WFP's interventions beyond Isiolo, thus influencing changes in policies and governments' budgetary and resource allocations.
Concluding the Course was testing the viability of the suggested innovations through an affirming process of prototyping and piloting. Despite showers of blessing that curtailed field missions, participants formulated questions and made calls to several stakeholders, thus testing the futuristic nature of their concepts and their sustainability.
Backing this up was a take-home assignment to ensure ownership at an individual level, as well as continuity post the Academy Course; participants filled out worksheets detailing the challenges they opted to prioritise, their approaches to help beneficiaries navigate, the support and cooperation they would seek from partners to make practising innovation a reality, and lastly, the specific actions that they would take in the next two months to scale the suggestions given during the sessions.
Guiding the process was a wholesome innovation pathway that detailed a nine-step journey that would set them apart and ensure their innovations stand the test of time. The "KeNIA Innovation Academy Course has helped establish a shared understanding of Innovation for the Isiolo County Government and its Partners," stated Sylvia Kezengwa, County Innovation Centres Manager, WFP. "In line with WFP's County Innovation Centres' goal to decentralise innovation at the grassroots level, we are collectively working towards a united approach to implementing innovations."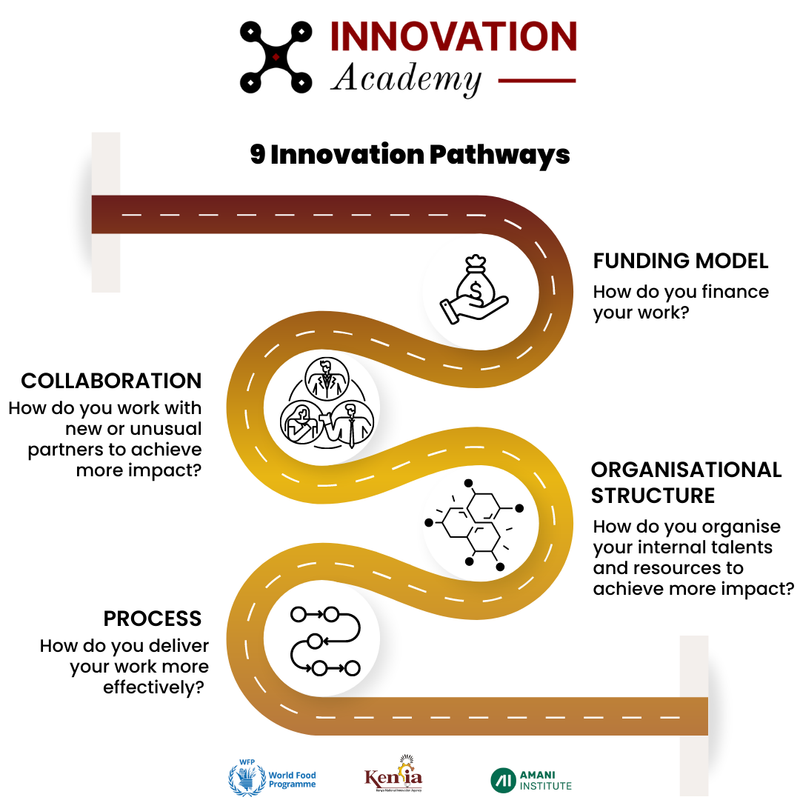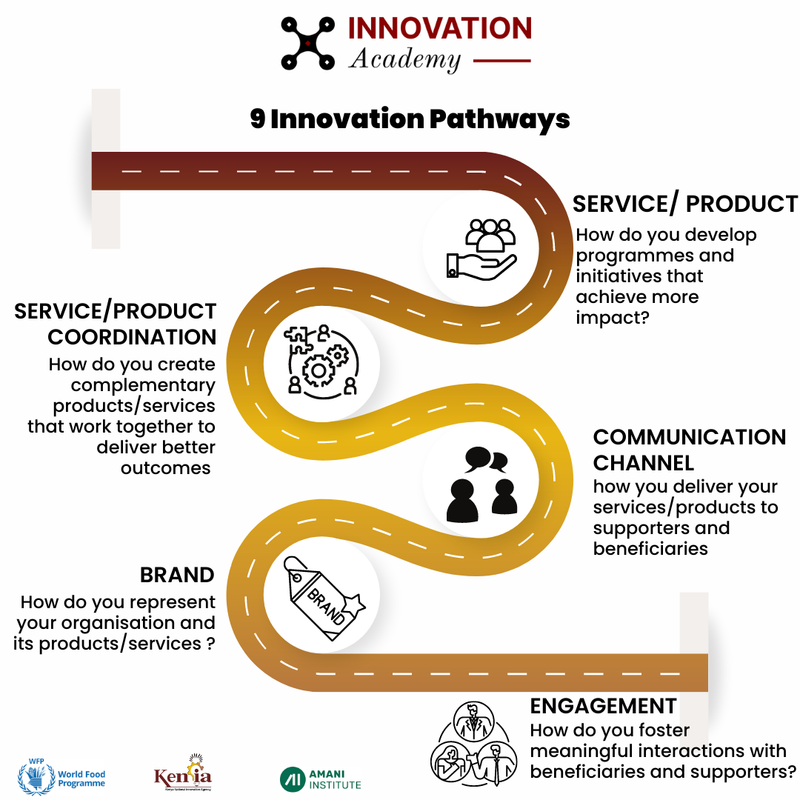 The innovation pathway summed up. Infographic @KeNIA.
In his concluding remarks, Mohammed Abdirashid, the Deputy County Secretary of Isiolo, stated, "Everything that has been shown beyond doubt was once imagined, and someone failed several times before succeeding. That's the mindset we should have with innovation."
The pilot program is not an end in itself and will be replicated by the KeNIA Academy across other regions targeting communities and youth, among other issues. In attendance were participants from the Catholic Relief Service (CRS), Caritas, Action Aid, Isiolo Youth Innovation Centre (IYIC), and government representatives from the ministries of Trade, Livestock, and Agriculture departments.
Read about KeNIA's initiative of building innovative capacities here.