The launch of the first ever Kenya Innovation Outlook Report marked yet another major milestone of the Kenya Innovation Week 2022 held at the Sarit Expo Centre. The Kenya Innovation Outlook Report 2022 was collaboratively put together by KeNIA and other partners including the United Nations Development Programme (UNDP) and the UK Government in a bid to understand and quantify the national innovation system.
Launched by H.E President William Ruto, the report is expected to act as a basis informing the innovation efforts that the Agency and the Nation at large will embark on to strengthen and improve the national innovation system.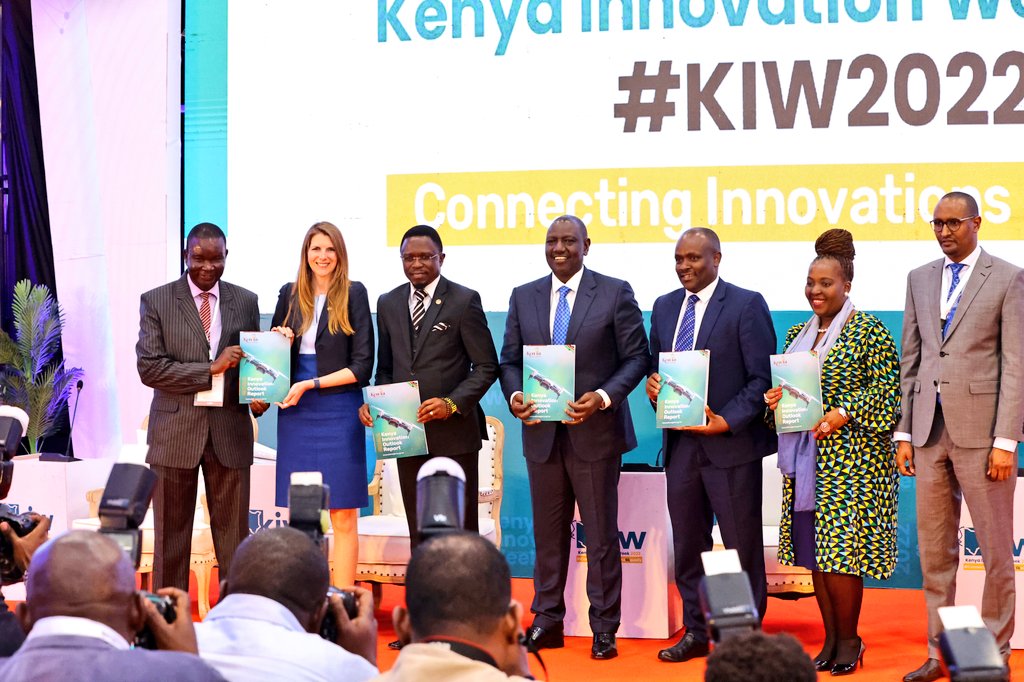 (Center) H.E Dr. William Ruto, President of The Republic of Kenya launching the Kenya Innovation Outlook Report 2022. (Left to Right) KeNIA Board Chair, Prof. Tom Ogada, UK High Commissioner to Kenya, Jane Marriott, Cabinet Secretary for Youth Affairs, Sports and the Arts, Hon. Ababu Namwamba, KeNIA CEO, Dr. Tonny Omwansa, UNDP - Deputy Resident Representative Programs, Mandisa Mashologu and PS - State Department for Youth Affairs, Ismail Maalim.
"You cannot measure what you don't know."-Dr. Tonny Omwansa,
KeNIA CEO, Dr. Tonny Omwansa, in his speech explained that the rationale of the KIO report 2022 was to measure the National Innovation System. He further explained that that for KeNIA to accomplish its mandate of managing the innovation system the Agency had to find a way to define success and measure progress. Within the report several indicators such as infrastructure were set. These indicators will continually be used as metrics to show progress every year.
This first edition has focused on the key elements such as the institutions, funding, and skills while putting more focus on two sub- sectors; startups and Commercialisation.
The goals of the KIO Report 2022, are first to demystify the innovation system, by defining who the system is made up of and their individual roles. Second to outline the challenges facing the system, third and most importantly to give a set of actionable recommendations.
With the launch of the report, the Agency hopes to provoke engagements about the national innovation system and to bring even more players on-board. Another important outcome is that KeNIA will be able to direct the energy as need be.
Next, guided by this report KeNIA will zoom out further and develop the 10-year Innovation Masterplan. The masterplan will be a roadmap to align National innovation efforts. The roadmap will be cross cutting by bringing together efforts from other ministries and sub sectors so there can be coordinated efforts.